Electric One, RunR Mobility Forge Partnership for High-Speed eScooter Sales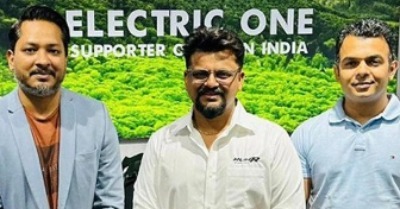 Electric One Energy Pvt Ltd, India's largest EV superstore chain, and RunR Mobility, also known as MECPower Mobility Pvt Ltd, have established a partnership to sell high-speed eScooters in India and internationally.
This 2023 electric mobility alliance is the largest and most promising. RunR Mobility's affordable eScooters would be available to more Indian consumers through the partnership. Electric One will sell high-speed eScooters only in Gujarat, while over 100 dealers across India will sell them.
Both companies want to decarbonize India and provide high-tech eScooters with trustworthy after-sales service. They aspire to lead the electric vehicle market with a complete ecosystem for clients. RunR Mobility makes affordable, safe, 100 percent indigenous 2-wheeler EVs. RunR HS EV will offer affordable commuting with innovative features and reliable battery technology.
Electric One, with a presence in Dubai, Sri Lanka, and Nepal, sells premium eScooters, eCycles, and eRickshaws under one roof. They want to have 500 dealerships by 2024 and introduce new dealer and employee training and education methods.