Shaping the Future of Plastic Expos
HIPLEX 2023, South and Central India's Biggest Plastic Expo, was held from August 4-7,at the HITEX Exhibition Centre in Hyderabad.It was organized byThe Telangana & Andhra Plastic Manufacturers' Association (TAAPMA), which drew over 500 exhibitors from 20 nations to explore the forefront of innovation and capture exceptional commercial prospects in the field of plastics and petrochemicals.
The exhibition industry has always been a vital platform for industry professionals and enthusiasts to come together, share ideas, and explore the latest trends and innovations. The recently concluded HIPLEX 2023 event demonstrated the power of exhibitions to drive growth and development in the regional plastic industry and the thriving local entrepreneurship that has succeeded in local exhibitions.
Shedding light on the goals of HIPLEX 2023, Vimlesh Gupta, President of Telangana and Andhra Plastic Manufacturers Association, shared, "Our aim is to provide a platform for exhibitors and visitors from tier 2 and tier 3 cities to showcase products without the high costs of national exhibitions. We focus on benefiting the local region, including states like Karnataka, Tamil Nadu, Kerala, Telangana, and Andhra, treating them as one unit. We aim to make participation feasible and affordable, offering almost half the pricing of national exhibitions."
Innovations Unveiled
HIPLEX 2023 showcased cutting-edge technologies and machinery for raw materials andplastic/petrochemical manufacture. The event drew industrialists from various sectors around the globe and attracted South Indian and neighboring state participants to five air-conditioned halls encompassing over 20,000 sq mt and more than 500 national and international exhibitors.
A captivating live display of machinery, highly technical and focused seminars like 'Plastic Packaging Sustainability', and productive business meets allowed participants to network with prominent plastic industry figures. It was supported by industry associations such as the Government of Telangana, CIPET, The All India Plastic Manufacturers' Association, The Organization of Plastic Processors of India, PlastIndia Foundation, and Indian Plastics Institute.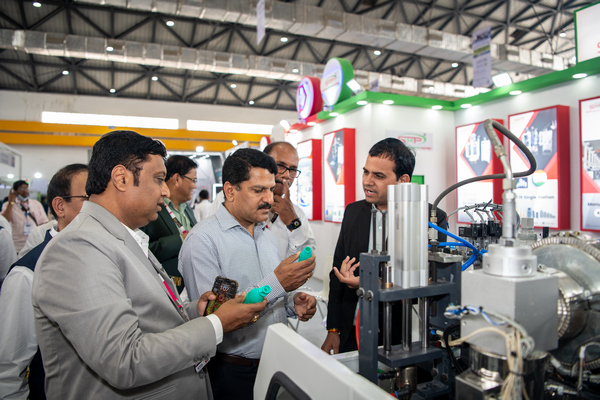 Focusing on Accessibility
HIPLEX 2023 took a revolutionary approach to exhibitions by providing free power, water, and air to exhibitors
who brought running machines to the event. "For the first time, we emphasized showcasing operational machinery, a crucial aspect as machines drive our product manufacturing. We introduced a unique initiative, offering free power, water, and air to those showcasing running machinery," elaborated Gupta. "This encouraged exhibitors to bring live machines, offering attendees a firsthand experience of live machines in action and fostering a deeper understanding of the industry's technical aspects that surpass videos and pictures. We aimed for 100 live machines, and successfully had 75-80 exhibitors participate in this highlight." Further he added that this move was met with enthusiasm from exhibitors, prompting discussions within the exhibition industry about making exhibitions more accessible and impactful.
Takes Plastic Expos to
New Heights
The event demonstrated a unique approach to exhibition management by extending comfort to exhibitorsand visitors. Contended with the outcome of the show, Gupta shared, "With TAAPMA being over 54 years old, our experienced team, including past presidents, continue to contribute to our events and plans. Adapting after the COVID-19 shift, we gathered our team and outlined branding, timing, and venue. Our chairman, B L Bhandari Jain, leads our efforts. Teamwork is crucial and individual efforts do not suffice."
He elaborated, "From the ground committee to marketing, exhibitor coordination, food, and hospitality committees, each played a crucial role in delivering a seamless experience. Our commitment to teamwork extends to every aspect, making sure our event runs smoothly and leaves participants satisfied."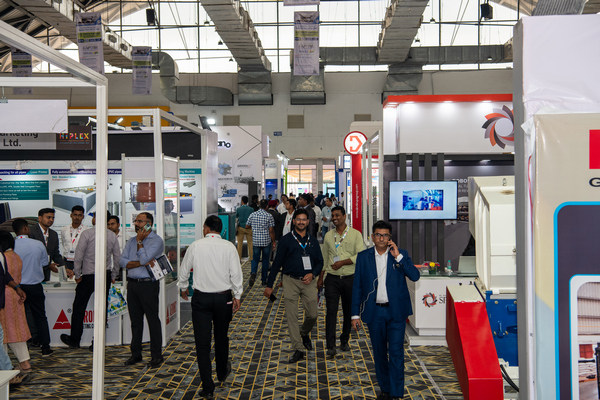 Sustainability in Focus
HIPLEX 2023 highlighted innovations in biodegradable plastics and sustainable practices. A dedicated 'RecyclePavilion' showcased the potential of recycling and creating value from waste plastics. The exhibition aimed to create awareness among the public and industry professionals alike, highlighting the importance of responsible disposal and recycling. "Plastics are not just about single-use items; they are essential for daily life, medical products, electronics, and even fashion. Our commitment to innovation and sustainability was demonstrated by offering a 50 percent discount for the recycling pavilion, encouraging the industry to embrace more sustainable practices," he emphasized.
Showcase of Change
Gupta's vision for HIPLEX 2023 went beyond the confines of the event itself. By initiating conversations about accessible exhibitions and providing innovative amenities, the event sparked discussions within the larger exhibition industry. He stated, "Colleagues from the PlastIndia Foundation, the biggest exhibitor in the nation's plastic industry, were impressed with our strategy. Its treasurer, present at our event, mentioned that our plan sparked discussions in their recent meeting, indicating a potential shift in the exhibition sector towards more machine demonstrations and enhanced facilities."
A Vision of Progress
As the curtains closed on HIPLEX 2023, Gupta's reflections were brimming with positivity. The success of this year's event has instilled a sense of purpose and drive to continue improving and expanding in the future. "We have introduced innovations to ensure the success of this exhibition and set a course for future events. With our current trajectory as the third-largest in the country, we are poised for further growth," said Gupta. His passion for the industry and commitment to its progress shines through as he sets his sights on elevating HIPLEX's impact on the plastic industry and exhibition landscape.