Forging 'Paw'sitive Bonds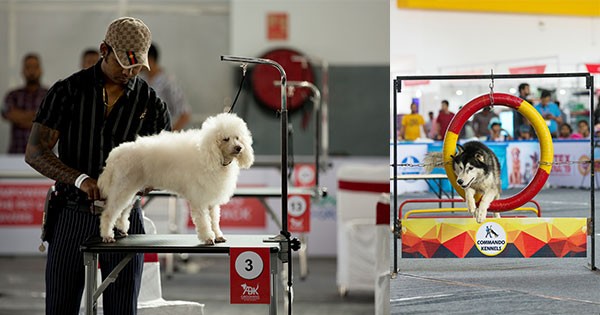 PETEX India, a premier exhibition showcasing the best of India's pet care industry, returns to HITEX Exhibition Center in Hyderabad on January 27-29, 2023, for its 5th edition. It will be a B2B2C show, providing a perfect platform for key stakeholders to present products and innovative pet supplies to a diverse audience under one roof.

Organized by HITEX, in association with The Hyderabad Canine Club, India's Premier Canine Club affiliated with the Kennel Club of India, PETEX aims to capitalize on the expanding Indian Pet Care and Pet Food market.
The platform, which has drawn the attention of top buyers, pet lovers, and media from all over the world, helps businesses showcase their entire product range, generate highly targeted business leads, strengthen brand visibility, introduce new products, and assess customer interest.
With an increase in pet humanization and sensitization, a rapid increase in pet adoption rates in urban areas, and innovations in pet foods, the event is expected to attract over 35,000 pet enthusiasts and visitors. The exhibition will feature a variety of dogs, cats, fish, and birds, as well as a spectrum of activities for pet lovers, pet parents, and their pets.
International Dog Championship and Cat Shows
HyCan'23 International Championship Dog Show, organized by Hyderabad Canine Club as a part of PETEX, is the highlight of the annual dog show calendar, attracting the country's top dogs and breeders. It has been observed that winning dogs are given a coveted position in the country. Over three days, more than 500 dogs from 30 different breeds will be judged by eight international judges.
The Indian Cat Federation (ICF) will host a one-of-a-kind international cat show with various activities and is expected to attract more than 200 cats. For the first time, a cat grooming competition will be held at PETEX India 2023.
Other Notable Features
A wide range of exotic birds such as Rainbow Lorikeet, Fancy Poultry, Dwarf Cochins, and many more will be on display, as well as competitions for birds such as Pigeon Race, Love Birds Beauty Contest, and Ornamental Fishes. The show will also feature exotic pets like Iguanas, Lamas, Ball Pythons, and others.
There will also be an educational and interactive pet grooming show during the event. Furthermore, a 'Doggathon' marathon for canines is planned, in which the dogs and their owners will compete together. In addition to a Veterinary Conference, there will be a B2B Lounge, an exclusive buyer-seller lounge for one-on-one meetings, where importers and pet product manufacturers looking to expand their business and reach will be given a platform to interact with dealers and distributors.
Exhibitors & Visitors Profile
The exhibitors profile includes Food, Clothes & Accessories, Toys, Litter, Smart Products & Latest Innovations, Health & Nutrition, Pet Grooming, Accessories, Medical Equipment's, Insurance, Burial Requirements, and Other Accessories for Dogs & Cats; Cages, Food, Medicine & Treatment, Grooming, Litter, and Other Accessories for Small Animals & Rodents; Cages & Aviaries, Food, Health & Nutrition, Litter, and Other Accessories for Birds; Ornamental Fishes, Aquariums, Tanks & Furniture, Aquarium Lighting, Aerators, Filters, Pumps, Heaters, Temperature Regulators, Measuring Instruments, Equipment's & Ornaments, Plants, Fish Feed, Medicines, Treatment, Aqua scaping, Garden, Pond & Fountains, Smart Products, Latest Innovations, and Other Accessories for Fishes category; and Reptiles & Amphibia, Terrariums & Furniture's, Heating Systems & Temperature Regulators, Lighting Systems, Food, Health & Nutrition, Medicine & Treatment, and Other Accessories in Terraria.
Distributors, Importers, and Wholesalers of Pet Care Products, Pet Groomers, Pet Trainers, Pet Care Media, Pet Care Experts, Kennel Clubs, NGOs and Associations for Pets, Pet Salon Teams, Traders (Import & Export), Retailers, Veterinarians, and Pet Owners and Pet Lovers are among the visitors.
Leveraging on Past Experience
The 4th edition of PETEX India successfully hosted national and international pet care companies that exhibited their brands, products, and services. It featured 50 exhibitors on the 10,000 sqm of event space, attracting 43,720 visitors, 560 dogs, and 120 cats. Most exhibitors were Manufacturers, followed by Dealers & Distributors and Traders & Importers.
Some of the prominent past exhibitors include Pedigree, Fédération Cynologique Internationale, Kennel Club of India, The Feline Club Of India, Commando Kennels, Pet Mankind, ABK Imports Pvt Ltd, WAHL India Grooming Products Pvt Ltd, Rossari Biotech Ltd, Swati Spentose Pvt Ltd, Unique Biotech Ltd, Farmina Pet Foods, Jiangsu Huali Co Ltd, Pride Pearl, Hasbets India, A V Enterprises, Pet Pharma, Dog O Bow (OPC) Pvt Ltd, Scientific Remedies Pvt Ltd, V M Classic Pets Pvt Ltd, Impel Pet Care LLP, Virbac Animal Health India Pvt Ltd, GreeNeem Agri Pvt Ltd, Nutan Medical Hall, Victor Canine Goods, Mars International India Pvt Ltd, myonlinepetclinic.com, AsiaTradeHub.com, The Himalaya Drug Company, Wiggles India Pvt Ltd (Sixth Sense Retail Pvt Ltd), TOFDA - Jasmine Pet Mart, Dogs & Pups Magazine, Info House Publications, People For Animals Hyderabad & Secunderabad, Mr N Mrs Pets, and Chandu Exotic Birds.
PETEX aims to capitalize on the expanding Indian Pet Care and Pet Food market. The premier exhibition for pet care products, with an integrated platform for B2B and B2C trades, is the ideal location for pet businesses to find franchisees and partners.
The event is expected to attract over 35,000 pet enthusiasts and visitors. The exhibition will feature a broad spectrum of activities for pet lovers, pet parents, and their pets.