Celebrating Auspicious Beginnings
South Indian Wedding Planners Congress (SIWPC) Global 2023, an initiative by Telangana Chamber of Events Industry (TCEI), unfolded at the splendid HICC and HITEX Exhibition Centre in Hyderabad from July 24-25, 2023. It concluded its highly anticipated event, showcasing Hyderabad as a premier wedding destination and uniting industry luminaries, thought leaders, and stakeholders to shape the future of wedding planning.
The second edition ofSIWPC Global 2023 commenced with a vision to revolutionize the South Indian wedding industry and showcase its grandeur to the world. After a year's hiatus due to the pandemic, the event returned more robust than ever, garnering international attention and participation. V Srinivas Goud, Minister for Tourism & Culture, Youth Affairs & Sports & Excise & Prohibition, Government of Telangana graced the occasion as the Chief Guest and inaugurated the show in the presence of Organizing Committee Members. Members that contributed significantly to the event's success include Ravi Bura, General Secretary, TCEI; Toufiq Md Khan, Treasurer, TCEI; Shravan Madiraju, Convenor, SIWPC Global 2023; and Ramesh K Muppana, Convenor, TCEI Event Excellence Awards 2023.
Highlighting the uniqueness of SIWPC Global 2023, Alla Balaram Babu, President, TCEI, stated, "Some associations are doing wedding expos, which are some stalls but not a proper learning or orientation platform, which invoked us to organize this. We organized the first edition in the Ramoji Film City, which was a big hit. After the Ramoji Film City, the second one has now become global. It was more like a national event that wanted to make a global impact."
Venues and food caterers were promoted throughout the Congress to market their offerings to a wide audience of wedding planners. The event also featured decorators and vendors of hangers, air conditioning, and print services, ensuring a comprehensive display of all essential elements for a smooth wedding experience. SIWPC also addressed significant industry concerns outside venues and suppliers, enabling dialogues and deliberations that are fundamental to the wedding planning industry's growth. Discussing SIWPC Global 2023's objectives, Babu said, "The primary goal was to empower and demonstrate Telangana's strength, promote it as a better distribution solution, and bring in some new trends, technologies, and systems, as well as an industry ecosystem, while also demonstrating to people across India and providing a platform to all stakeholders involved in wedding planning."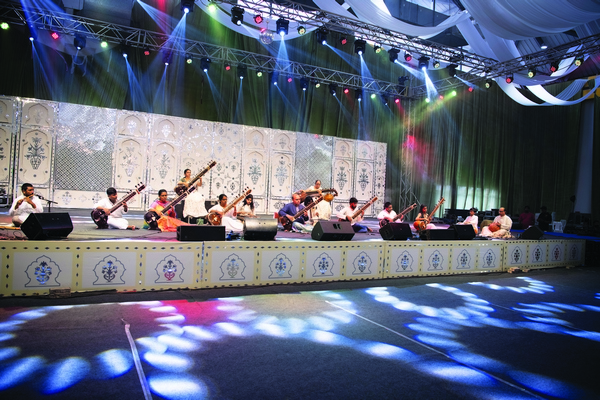 Bringing Cultures Together
The event aimed to bridge the gap between the South Indian wedding community and the rest of India. It provided a platform for learning, networking, and fostering innovation in the unorganized industry. SIWPC showcased South Indian culture's unique traditions and rituals, making weddings in the region extremely special. Classical dance, soulful music, and artistic exhibitions encapsulated South Indian weddings in captivating live performances.
Babu emphasized the importance of cultural exchange through the event and said, "We wanted to create a platform where we could showcase the South Indian wedding structure system and the culture to the rest of India as well as across the globe."
Impact on Wedding Planning
SIWPC 2023 offered unmatched opportunities for important partnerships and collaborations. All wedding industry stakeholders enjoyed engaging with leading service providers to provide exceptional wedding experiences for their clients. Addressing the impact of SIWPC Global 2023 on the wedding planning industry, Babu stressed, "The idea was to bring in great content and great presentation and clear up many doubts because it's not an organized industry. We tried to streamline the industry by bringing them together. The first step was to gather all the wedding people together, discuss some thoughts, share some ideas, and see how we can reform in a better way."
The well-planned exhibition area showcased the best wedding services with stalls and booths. The exhibits were stunning, with bridal apparel, wedding decor, and photography ideas that inspired dream weddings. An extravagant Gala Night featuring entertainment and celebration concluded both days of the Congress. He also highlighted the outstanding elements of the event, stating, "We had well-known speakers from abroad, with a portfolio of Hollywood weddings, Oscar dinners, etc., and international exposure as well. We hosted the sixth edition of TCEI Event Excellence Awards and the event, spread across three venues."
Diverse Participation & Startups
Revealing steps taken to enhance participant experience, the TCEI President said, "We had digital marketing and other forums for creative strategies and networked with 21 regional associations in India. We approached all these associations to promote our event."
Sharing insights on the attendees' profiles, Babu added, "We had a base registration of about 320. There were about 100 exhibitor invitations and exhibitor tickets. We had a total of 500 visitors for the conference and did not have direct entries. It was a paid participation. We had at least a 30-member delegation from Rajasthan, 25 from Tamil Nadu, 30 from Visakhapatnam, and 50+ delegates from other states." He continued, "It's worth noting that the show received significant participation from various states. We had the privilege of welcoming 6-8 delegates batch wise from prominent cities as well, such as Delhi, Mumbai, Kolkata, Bengaluru, Kochi, and Ahmedabad. This diverse representation underscores the widespread appeal and reach of our event."
Speaking on the opportunity for startups, he shared, "There were 30-40 startups meeting veterans like us in the event sector who had so much expertise and position with the contacts that they were able to use the most." He further added that wedding planning is not a direct business and not an easy-breezy event management. The initial break is exhausting. One may be creative but has to master one of the genres which can earn him appreciation for work. Adding new flavours, trends, designs, and approaches is the key.
Trends & Future Outlook
Elaborating on the challenges and trends, Babu stated, "This is the only industry where there is no recession and is completely stable. But the challenges lie in direct competitions, procuring respective licenses, and permissions. Changing trends imply thatthe convention is a platform where everyone has been audited for trends."
In Conclusion
The event's incredible success was a testament to TCEI's dedication and support by
HITEX Exhibition Centre and Hyderabad International Convention Centre (HICC) as SIWPC Global 2023 descended. SIWPC honored South Indian weddings and set new standards for wedding preparation in the region.
The second edition of SIWPC Global 2023 commenced with a vision to revolutionize the South Indian wedding industry and showcase its grandeur to the world. After a year's hiatus due to the pandemic, the event returned stronger than ever, garnering international attention and participation.