A Beacon of Creativity & Empowerment
Umang 2.0, the Jewelry & Lifestyle Expo, organized by the Jain International Trade Organization (JITO), culminated on October 2, 2023, at the HITEX Exhibition Center in Hyderabad. This remarkable three-day affair celebrated the artistry, inventiveness, and entrepreneurial spirit. Featuring more than 500 exhibitors, distinguished speakers, and a diverse array of participants, the event transcended expectations, leaving a lasting mark on the dynamic City of Pearls.

Umang 2.0, hosted by the Jain International Trade Organization (JITO) Hyderabad Chapter, marked its sixth edition with resounding success. The event's journey began with a visionary objective—to provide a platform for female entrepreneurs, women startups, and young businesses. It aimed to bridge the gap between entrepreneurs and their potential customers while fostering social empowerment.
Gautam Jain Sehlot, Chairman JITO, Hyderabad Chapter, shared his perspective on the event's mission, stating, "Umang 2.0 is an exhibition where JITO provides a social environment for lady entrepreneurs, women, and startups. We aim to encourage women to explore their hidden potential by offering them exhibition stalls at reasonable prices."
The event was indeed a game-changer in terms of accessibility for entrepreneurs. While other exhibitions charged exorbitant prices for booth space, Umang 2.0 took a different path. Sehlot continued, "We started our pricing at just INR 5,000 per sq mt, compared to the INR 15,000 per sq mt charged by other exhibitors. This affordable pricing was our way of promoting and supporting young startups and women entrepreneurs."

The JITO Advantage
JITO, a worldwide organization of Jain businessmen, industrialists, knowledge workers, and professionals, played a pivotal role in the organization and planning of Umang 2.0. JITO is an umbrella organization with multiple verticals. With 92 branches worldwide, including 76 branches across India, its global influence and commitment to social empowerment were evident throughout the event.
Sehlot elaborated on JITO's role, saying, "JITO is more than just a trade organization. We provide job opportunities, facilitate education for students, and support Jain saints in their journeys by providing facilities and insurance through Shraman Arogyam verticals. We have other verticals, including the JITO Education Loan Program (JELP) and the JITO Administrative Training Foundation (JATF), which help students planning to study for exams like IAS, IRS, and IPS."

He further emphasized JITO's commitment to social empowerment, especially within the Jain community. "When we organize exhibitions," Sehlot stated, "we ensure that 75 percent of the stalls are allotted to Jain community members, empowering the weaker sections of our community. The remaining 25 percent is open to others who wish to participate."

Timing and Venue: A Strategic Choice
Umang 2.0 strategically chose the dates of September 30 to October 2 for its duration. Explaining the reasoning behind this decision, Sehlot stated, "We selected these dates because they fall 15 days before the festive season of Dussehra and Deepavali. This timing provides exhibitors with an excellent opportunity to capture the market. Additionally, all three days are during a holiday period, with Saturday, Sunday, and Gandhi Jayanti on October 2, making it a leisure period for business concerns."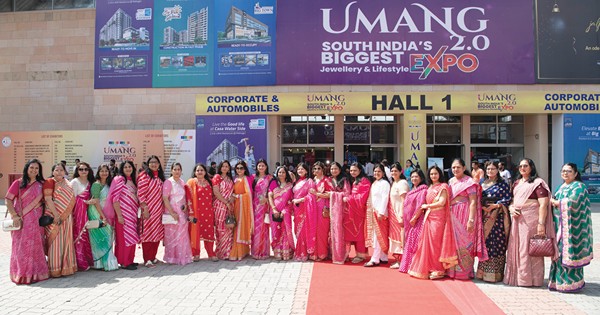 The choice of venue, the HITEX Exhibition Center, added a touch of class and sophistication to the event, according to Sehlot. Praising the venue, he said, "HITEX offers excellent infrastructure and is one of the best locations for organizing such massive exhibitions. Its central location in India makes it accessible to a wide audience."

The event's success is also rooted in meticulous planning. As Sehlot shared, "We've reached out to various business associations and organizations in Hyderabad, including Lions Club and Rotary Club, along with our own groups like Jain Relief Foundation and Jain Seva Sangh. Invitations were extended to over a lakh people in Hyderabad, ensuring a broad attendance. To pique interest and draw a substantial crowd of 75,000 enthusiastic visitors, Umang 2.0 employed a multifaceted advertising approach encompassing newspapers, social media, and influencer marketing. The event's primary focus was to offer exhibitors ample opportunities to showcase their creations, engage with potential patrons, and actively contribute to the advancement of craftsmanship and innovation within the industry.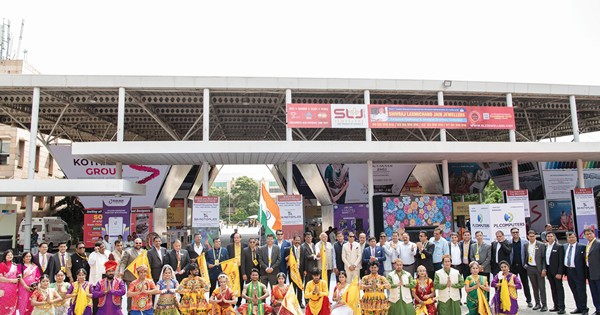 A Diverse Spectrum
The Jewelry & Lifestyle Expo aimed to bring together jewelry designers, lifestyle product manufacturers, and enthusiasts, offering a diverse and engaging experience for both exhibitors and attendees. The event was more than just jewelry; it seamlessly blended jewelry, lifestyle, and corporate segments.
Sehlot highlighted the diversity, saying, "We had different types of jewelry designers from various parts of India, including Jaipur, Jodhpur, Bikaner, Kolkata, and Mumbai. These designers represent the cream of the jewelry community, and they came to Hyderabad to showcase their products."
This pan-Indian representation ensured that the event offered a comprehensive overview of the jewelry and lifestyle industry's vibrant landscape.

An Eventful Schedule
Umang 2.0 didn't stop at products; it invited influential personalities to address the event, attracting a wider audience and enriching the attendee experience. The presence of political leaders added prestige to the event's opening ceremonies. This move aimed to reach out to a broader audience who look up to these leaders. Sehlot explained, "We've invited political leaders to inaugurate the event because it helps attract a wider audience. People look up to them, and their presence adds prestige to Umang."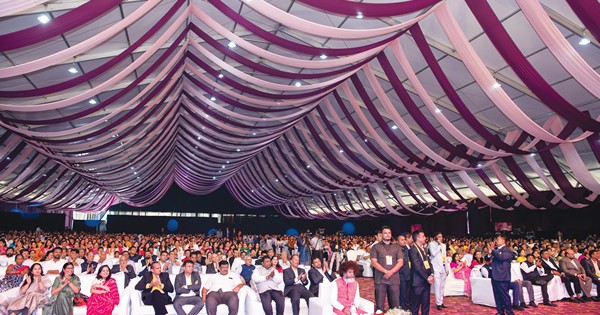 In addition, motivational speakers like Mahatria Ra Infinitheism and Vivek Bindra enthused and motivated visitors to explore the exhibition. Underlining their impact, he said, "Motivational speakers draw dedicated followers. After their sessions, attendees explore the exhibition, benefiting exhibitors."
Cultural events like Sukoon: A Sufi Night, Jalsa: The Dandiya Raas, and Kavi Sammelan By Kumar Vishwas added entertainment value to Umang 2.0. These performances showcased India's rich cultural heritage and created an immersive experience for attendees. Sehlot commented, "Cultural performances added entertainment value and created an immersive experience for attendees."

Leaving a Lasting Impact
In conclusion, Umang 2.0 was a celebration of creativity, innovation, and the strengthening of local communities. It provided unprecedented access to resources thanks to JITO's dedication to supporting entrepreneurs of all backgrounds. The event marked the beginning of a larger social movement.